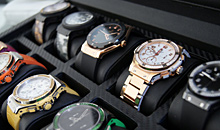 There is no right or wrong answer.  While new offers the "never worn by anyone else" appeal,  and a new Rolex or other luxury watch can be a very sound investment. Pre-owned, however, allows you to select exactly the style you want at a lower price point.
Just like purchasing a used car, do your homework. Determine the model you prefer including metal and color, type of watch band and the price range you are looking for. Then contact a reputable dealer, like me, to discuss options.
My business has been successful for over 25 years because I offer my customers great customer service! That means extensive knowledge of all luxury watches and fair prices. Often I can source watches that have never been worn. And because I deal in all brands fine watches, I can find just what you want.
If you are interested in buying or selling a luxury watch, contact me. I'll share all the information you will need to make a sound decision.
Save